Join the 2015 GREEN-A-THON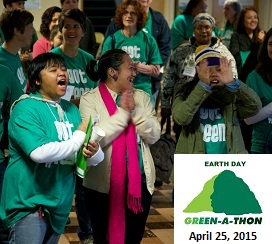 Help create a world that can sustain us all!
Saturday, April 25th * Southeast Seattle and South King County Neighborhoods

Green-A-Thon is a volunteer outreach event to increase knowledge of and access to the climate justice movement in communities of color. Green-A-Thon teams will go door-to-door, distributing free green products and offering 500 families a vision of how getting involved in climate justice activities can lead to equity and opportunity for our communities, most often left behind!

WHAT: BECOME A TEAM CAPTAIN AND HELP US MAKE THE GREEN-A-THON A SUCCESS! HELP US RAISE $30,000 TO SUPPORT GOT GREEN's GRASSROOTS ORGANIZING!
RECRUIT 3 OTHER FRIENDS TO PARTICIPATE IN ONLINE FUNDRAISING AND DOOR-TO-DOOR OUTREACH ON APRIL 25TH (9 AM - 3 PM)
HELP YOUR TEAM RAISE AT LEAST $200 for GOT GREEN
RAISE FUNDS FROM FAMILY, FRIENDS, CO-WORKERS TO SUPPORT THE EVENT
CHOOSE A TEAM NAME AND PHOTO SO WE CAN CREATE YOUR ONLINE FUNDRAISING PAGE
HOW: CLICK HERE TO REGISTER AS A TEAM CAPTAIN or TEAM MEMBER - OR EMAIL THE GREEN-A-THON TEAM TO VOLUNTEER OR CONTRIBUTE
WHY: HAVE FUN AND REAP THE REWARDS OF COMMUNITY SERVICE THAT IS GOOD FOR OUR COMMUNITIES, GOOD FOR THE PLANET, AND GOOD FOR OUR MOVEMENT!
TRAINING IN DOOR-TO-DOOR OUTREACH AND CLIMATE JUSTICE ISSUES!
SIGNATURE GOT GREEN T-SHIRTS FOR ALL TEAMS RAISING $200 OR MORE!
YUMMY SNACKS, ENTERTAINMENT, CHILDCARE AND NEW FRIENDS
PRIZES, PRIZES, PRIZES
When
April 25th, 2015 9:00 AM through 3:00 PM
Location
Southeast Seattle and South King County Neighborhoods
WA